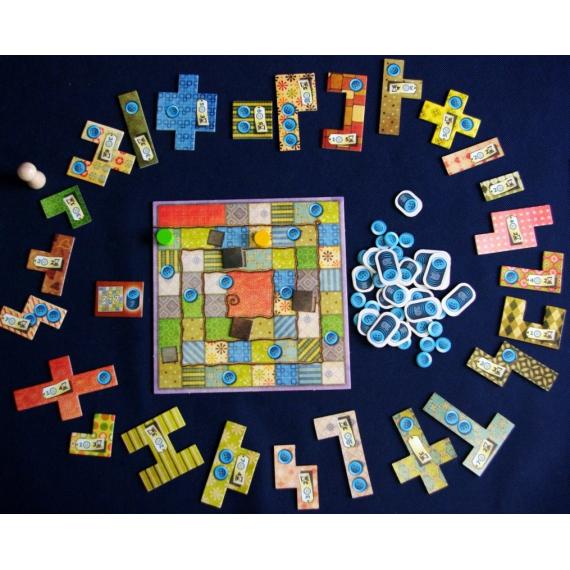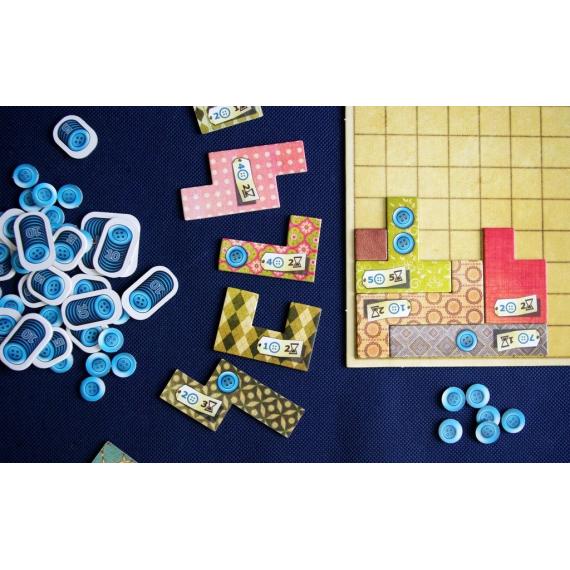 Patchwork
Wymagająca i satysfakcjonująca gra dla dwojga.
 Shipping in 24h
Uwaga!
Informujemy, że w dniach 3 - 10 lutego mamy urlop.
Zamówienia złożone w tym terminie będą realizowane od poniedziałku 13 lutego. Będziemy się starali w miarę możliwości odpowiadać na pytania mailowe, ale prosimy o cierpliwość.
Za utrudnienia przepraszamy!
Patchwork polega na tworzeniu unikalnych wzorów, poprzez łączenie ze sobą niewielkich fragmentów tkanin w całość. Kiedyś metoda ta popularna była ze względu na możliwość całkowitego wykorzystania wszystkich pozostałości i strzępów materiału.

Akutalnie, ten sposób szycia uchodzi za trend w świecie mody, co w szczególności widać w propozycjach najsłynniejszych projektantów oraz artystów.

Gra polega na stworzeniu wyjątkowej kołdry z pasujących do siebie kawałków materiału – co jest znacznie trudniejsze niż się wydaje. Warto więc dobierać je starannie i pamiętać o tym, aby w zapasie posiadać dużą ilość guzików pozwalających na wykończenie i uatrakcyjnienie wyglądu kołdry.

Czas zabawy wynosi około 30 minut. Zwycięża gracz, który zarówno najbardziej kreatywnie jak iskutecznie ułoży w całość skrawki materiału.

Patchwork została wyróżniona przez społeczność BoardGameGeek tytułem najlepszej abstrakcyjnej gry, która pojawiła się na rynku w roku 2014.

W pudełku znajdują się:
– 33 łatki
– 5 łatek specjalnych
– 2 plansze graczy
– 50 guziczków
– 2 znaczniki czasu
– plansza czasu
– instrukcja
– specjalny żeton
– neutralny żeton
Data sheet
Wiek

od 8 lat

Liczba graczy

1-6

Czas gry

do 20 min
The purchased games are shipped on the same or the next business day from the date of placing (paying for) the order (unless a different shipping time is indicated for a given product).
In order to speed up the execution of orders, please send a confirmation of the transfer.
Approximate delivery time (Poland):
Inpost Courier - 1-2 business days
Inpost Paczkomaty - 1-2 business days
Approximate delivery time (abroad):
DPD Courier - 2-5 business days (depends on country)
Account number for payments for orders:
Account for payments in EUR:
IBAN PL08 1140 2004 0000 3512 1251 1517
Account for payments in PLN:
79 1910 1048 2213 6280 1476 0001
Delivery costs 
Delivery costs (in EU):
DPD Courier - 50 zł for a parcel up to 10kg (for majority of countries)
Attention!
On request, we can add new countries to shipping and give the shipping price for them.
Delivery costs (in Poland):
Inpost Paczkomaty - 9,90 zł
Inpost Courier  - 11,90 zł
Inpost Courier (cash on delivery) - 18,90 zł
Attention!
For orders over PLN 400 and prepaid shipment in Poland is FREE.