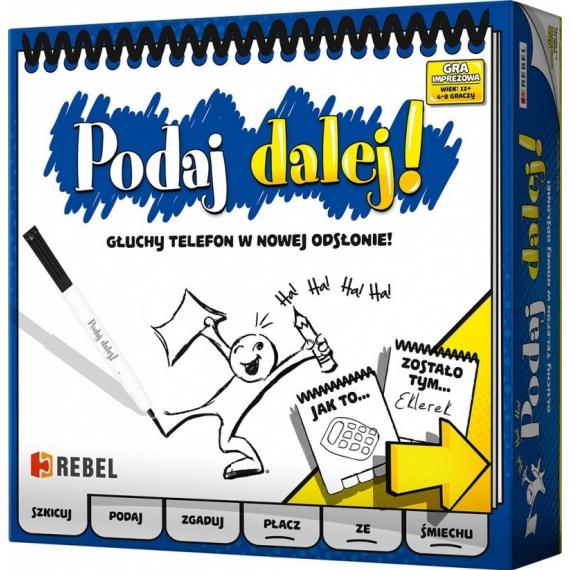 Podaj dalej!
 Szkicuj, zgaduj, podaj dalej!
 Shipping in 24h
Wielokrotnie nagradzana gra Podaj dalej! zapewni Twojej rodzinie i przyjaciołom świetną rozrywkę i niezapomniane chwile niepowstrzymanego śmiechu. Narysuj to co widzisz i odgadnij to co widziałeś, a następnie podziwiaj nieprzewidywalny efekt ciągu skojarzeń wszystkich uczestników zabawy.
P

onad

1700

słów i haseł!

8

zestawów zmazywalnych pisaków, szkicowników

i ściereczek,

Idealna dla rodzin

, na niewielkie spotkania

przyjaciół

, zarówno

nowych jak i starych

.

Wielki

łamacz lodów

!

Nie

wymaga

umiejętności

rysowania

.

Ludziki z kresek i poczucie humoru mile widziane!
Podaj dalej! to rysowany głuchy telefon, jeśli pierwszy i ostatni obrazek w szkicowniku się zgadzają to znaczy, że gracze prawidłowo odgadywali hasła. Jeśli nie? No cóż - wtedy na pewno do łez rozbawi was ciąg myślowy i prześmieszne rysunki stworzone przez graczy pod presją czasu.
W efekcie waszych starań powstanie w każdym szkicowniku ciąg skojarzeń kolejnych osób.
W grze występuje klepsydra, która narzuca tempo gry, a dzięki 142 dwustronnym kartom z 12 hasłami na każdej z nich otrzymujemy ponad 1700 haseł! Dla tych pragnących rywalizacji gra oferuje również dwa systemy podliczania punktów. Przy tej grze nie ma czasu na nudę, więc pisaki w dłoń i Podaj dalej!
Zawartość pudełka:
karty zawierające ponad 1700 słów
8 "zmazywalnych" zeszytów
8 pisaków
8 szmatek do wymazywania
klepsydra
Data sheet
Wiek

od 12 lat

Liczba graczy

4-8

Czas gry

od 20 do 45 min
The purchased games are shipped on the same or the next business day from the date of placing (paying for) the order (unless a different shipping time is indicated for a given product).
In order to speed up the execution of orders, please send a confirmation of the transfer.
Approximate delivery time (Poland):
Inpost Courier - 1-2 business days
Inpost Paczkomaty - 1-2 business days
Approximate delivery time (abroad):
DPD Courier - 2-5 business days (depends on country)
Account number for payments for orders:
Account for payments in EUR:
IBAN PL08 1140 2004 0000 3512 1251 1517
Account for payments in PLN:
79 1910 1048 2213 6280 1476 0001
Delivery costs 
Delivery costs (in EU):
DPD Courier - 50 zł for a parcel up to 10kg (for majority of countries)
Attention!
On request, we can add new countries to shipping and give the shipping price for them.
Delivery costs (in Poland):
Inpost Paczkomaty - 9,90 zł
Inpost Courier  - 11,90 zł
Inpost Courier (cash on delivery) - 18,90 zł
Attention!
For orders over PLN 400 and prepaid shipment in Poland is FREE.